Tips
4 min read • Dec 26, 2022
Laura Paragano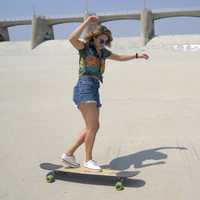 How to film yourself skating while listening to music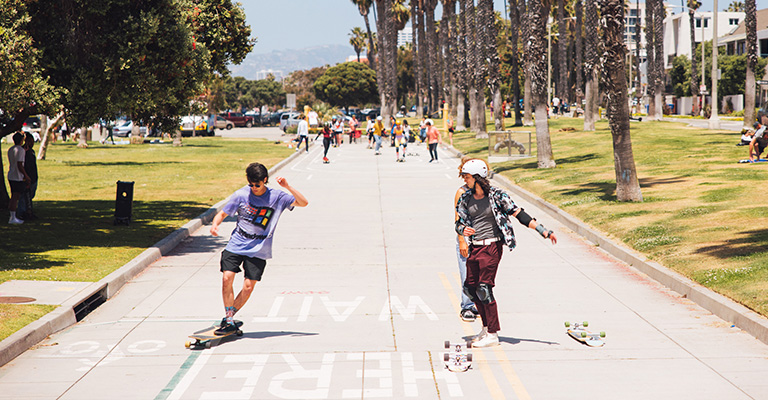 Kevin Wang working on new moves in Santa Monica. Photo: Caden Weatherly
Are you tired of asking your friends to film your skate sessions? Or, maybe you want to document your progress and share it with the world. Whatever your reason, filming yourself longboardingg can be a great way to troubleshoot difficult tricks and create compelling videos. And with the right setup, you can even continue listening to music while you film.
In this post, we'll show you how to film yourself longboarding while listening to music in just five simple steps. We'll cover the supplies you'll need, the best location and camera position, and how to edit your footage. Whether you're looking to share your tricks on social media or simply want to document your journey, this guide has you covered. So grab your skateboard and wireless ear buds, and let's get started!
Supplies
To record yourself, all you really need is a smartphone. But if you want to improve your filming, you should also grab:
A tripod (you can find one for as low as $15)
Wireless headphones
Chalk (optional)
5 steps to create your best video yet
Step 1 - Find a spot to film
Location matters a lot when it comes to filming yourself. When you're filming with a friend, you can record on busy streets or skateparks. But when you're by yourself, you want to make sure your phone doesn't get run over or stolen. Find a quiet spot where you feel comfortable leaving your phone on the ground.
Step 2 - Position your camera
First, decide whether you want to film vertically or horizontally. If you film vertically, it's easier to edit and share on Instagram or TikTok, but it leaves you less room to land a trick. If you film horizontally, it gives the clip a more cinematic effect—but editing it to view vertically can be difficult.
Then, find a good spot to place your camera. Having a tripod helps a lot with this step. Ideally, you'd find a bench or surface about hip-high, across the street. After all, you don't want a shot where the majority of the screen is pavement or sky. And you want to give yourself enough space to land the trick.
Step 3 - Know your framing
Once you've got the camera positioned, you'll need to know what space you've got to work with that's in frame. It's tempting to use the fisheye or wide-lens setting on your phone, but that can seriously distort your body (and the tricks)! Try to use normal zoom. Find the edges of the shot by finding markers in space, like a tree or parking lines, that are just barely in shot. If you brought chalk, you can draw lines on the ground where you're in frame.
Step 4 - Capture the video (while listening to music)
Your smartphone's back camera is always going to be better quality, so use that!
You can listen to your music while you record yourself on certain iPhones. It works in all versions of iOS 14 (including the latest iOS 14.5 betas) and requires no third-party apps:
Start playing the track you want to hear while recording.
Open the Camera app and stay in Photo mode.
Start recording your video by holding down the shutter button at the bottom of the screen.
Keep it held down while shooting, or slide the button to the right to lock it in video recording mode.
Press the stop button when you're done.
If you have an Android, you can download apps like Together to record while playing music.
To get really fancy, record multiple takes of your line or trick with different camera angles.
Step 5 - Edit your footage
You can download free apps like Splice or iMovie to edit the videos on your phone. Some pro-tips for editing:
Keep clips short and concise. Once you're out of the shot, cut the clip.
Use multiple cuts to keep the energy of the video up (unless the point is to show a raw and unedited line!). Put clips from different angles back-to-back. Using multiple clips in a row with the same framing can feel bland.
Try to match the tricks and cuts to music. See if you can have the cuts or the trick landing match the beat of the music. This is an artform!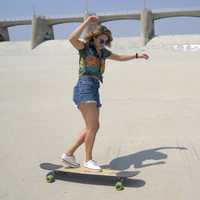 Laura Paragano
Laura is a co-founder of Amp Skate. She's a writer, longboarder, musician, and artist, as well as an ambassador for Shred MFG and Rev Balance.
Tags
camera
phone
video
improvement
Powered by skaters,
for skaters, with loads of love.
© Circa 2021 - Amp Skate LLC