Gear
4 min read • Jan 25, 2023
HOUCE
Longboard Trucks 101: A Breakdown of the Top 4 Brands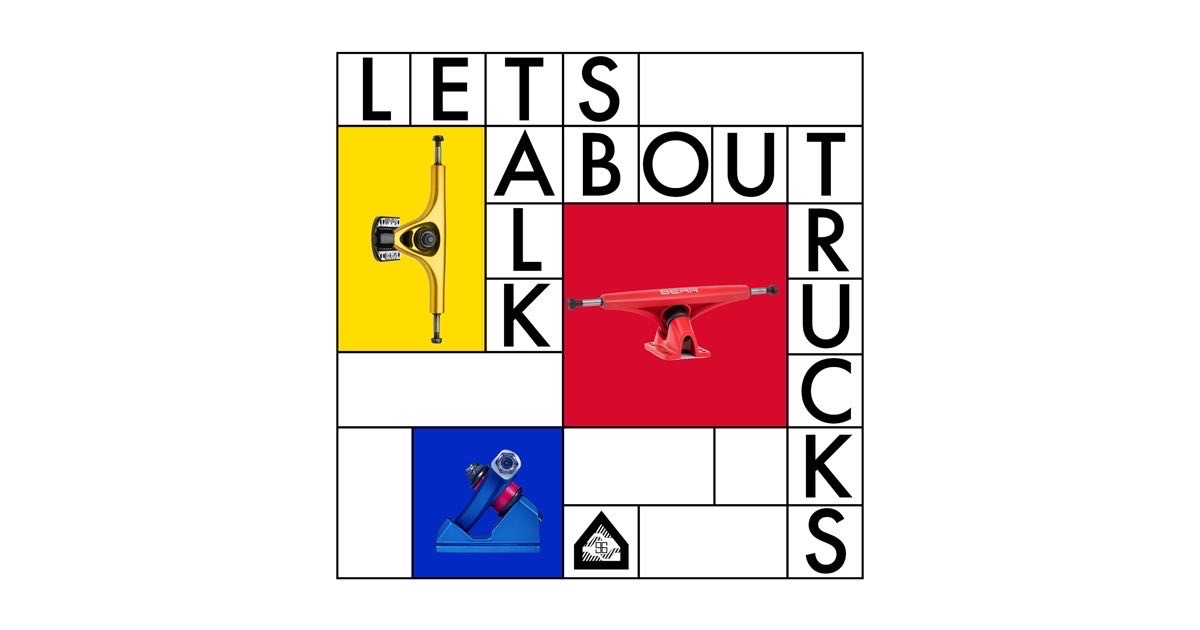 Are you a longboarder looking to improve your ride? Understanding the anatomy of a skate truck is essential to getting the most out of your set-up. From hangers to baseplates, axels to kingpins, understanding the technical names and functions of each part can help you make informed decisions when it comes to choosing the right trucks for your needs. But with so many brands and types to choose from, it can be overwhelming.
In this blog post, we'll dive into the differences between Reverse Kingpin Trucks and Traditional Kingpin Trucks, and take a closer look at the top 4 most popular longboard truck brands on the market - Paris Trucks, Bear Trucks, Caliber Trucks and Air Trucks - to help you make the best choice for your riding style. Whether you're into carving, cruising, downhill or longboard dancing, this guide has you covered.
Longboard and Skateboard Truck Anatomy
Skaters of all disciplines know how essential a set of trucks is to their complete set-up. Without them your wheels will have nothing to hold onto your deck when riding and you loose the ability to turn. Every skate truck, regardless of design is made up of 7 parts shown in the diagram above.
Hanger
Baseplate
Axel
Kingpin
Pivot Cups
Bushing
Mounting Holes
Interested in learning more about the technical names of longboard parts? Read our article on longboard lingo.
Reverse Kingpin Trucks vs Traditional Kingpin Trucks
When it comes to trucks, there are two types: Traditional Kingpin (TKP) trucks and Reverse Kingpin (RKP) trucks. The TKP trucks made for street skateboards as they sit lower and are more suited for skateboard tricks and grinds. RKP Trucks are designed for longboards as they stand taller and are designed for deeper carves and turns.
Top 4 Most Popular Longboard Truck Brands
Paris Trucks
Leading the charge is Paris Trucks with their latest V3 180mm 50° trucks. Their signature open bushing seat design and their tried and true truck geometry, make these the perfect truck for all your carving, cruising and longboard dancing needs.
Bear Trucks
Following up and closing the gap real hard is from Canada is Bear Trucks by Landyachtz and their new Gen 6 Grizzlies. These are arguably the best performing cast longboard trucks incorporating new technology from their DH/Freeride trucks that improve its strength and refined its steering geometry.
Caliber Trucks
Next up we have the Caliber III. Updated to satisfy the modern downhill skater 184mm hangar for stability and easier slide initiation. The Caliber III comes in a raked and rake-less option to suit multiple riding styles. The 50° baseplate option provides a sharper turn radius, ideal for cruising, carving and freestyle/dance. They also make a 44º option that's much more stable a high speeds.
Air Trucks
Coming in at just 860g, Air Trucks from Hong Kong are currently the lightest cast trucks on the market. They're low and feature a rake-less geometry which make them exceptionally good for freestyle longboarding. It's no coincidence some of the most technical riders in the world are on them.
Which longboard trucks are best?
The best longboard truck for you will depend on your riding style and preferences. Ultimately, it's important to experiment and try different longboard trucks to find the one that works best for you. Each brand has its own unique features and strengths, and it's important to consider what matters most to you when making your decision. Whether you prioritize weight, strength, or turn radius, there's a truck out there that will help you get the most out of your longboarding experience. So, don't be afraid to mix and match, experiment and find the perfect set up for you. Happy riding!
HOUCE
HOUCE is a longboarding skate shop based in Lagos State, Nigeria. 🇳🇬 EST December 29th 2021, they are focused on supporting the growing scene of Longboarding in Nigeria and West Africa.
Tags
Paris Trucks
Caliber Trucks
Air Trucks
HOUCE
Reverse Kingpin trucks
Traditional Kingpin trucks
Caliber III
Paris V3
Gen 6 Grizzlies
Reverse Kingpin trucks
Traditional Kingpin trucks
Powered by skaters,
for skaters, with loads of love.
© Circa 2021 - Amp Skate LLC