Gear
5 min read • Mar 22, 2023
Brandon DesJarlais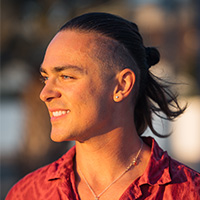 Loaded Chinchiller Longboard Review: Big Chillin' with a Low-Key Thrillin' Ride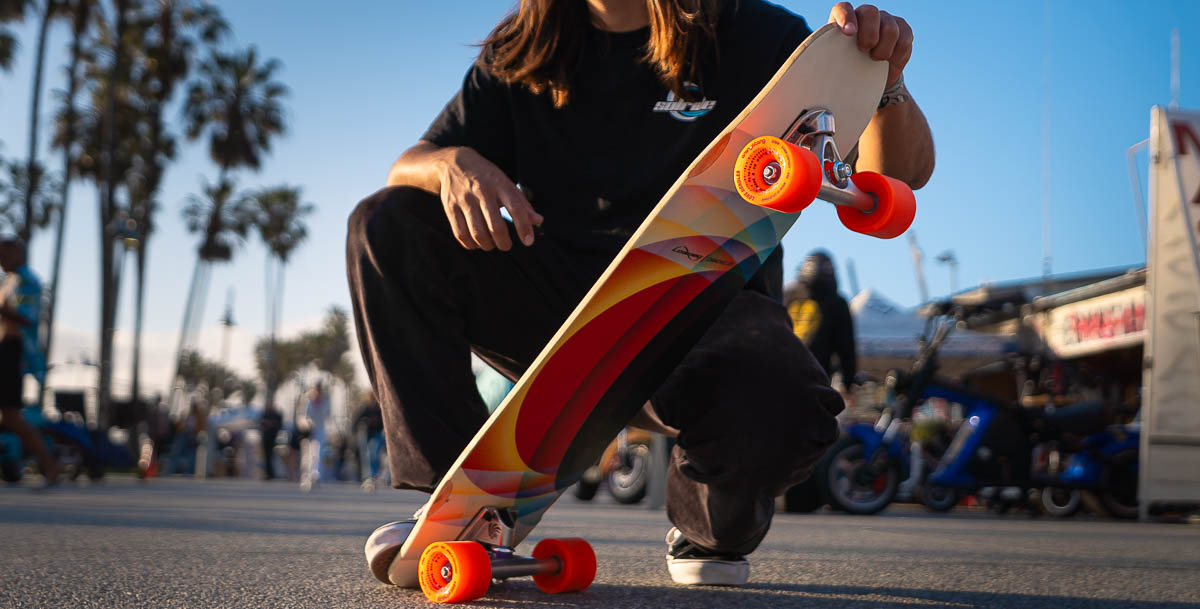 Today I'm going to share my experience and thoughts on the Loaded Chinchiller longboard. I had the opportunity to test this board out with my friend Lance at the iconic Venice Beach, and I have to say, we were both quite impressed. In this article, I'll dive into the details of this brand new longboard and provide you with a comprehensive review to help you decide if it's the right board for you.
TLDR: The Loaded Chinchiller is a compact, comfy, and versatile longboard designed for carving, pumping, and freestyle. With unique features like a subtle flex, mild rocker and concave, and playful proportions, this innovative longboard is perfect for those looking for a fun and intuitive ride. The short tail might take some getting used to, but overall, it's a fantastic board that's well worth the investment.
Longboard Specifications and Product Details
Before we get into our personal experience with the Chinchiller, let's quickly go over the board's specs and product details:
34 inches long
8.5 inches wide
21 inch wheelbase
It features a mild rocker and concave, with a subtle flex that provides a smooth ride while still being stiff enough for more technical tricks and slides.
This board is designed for carving, pumping, and freestyle, and its compact size and lightweight construction make it a nimble and responsive ride.
The complete setup includes Paris V2 150mm 50° trucks, Orangatang 65mm Love Handles wheels, Loaded Jehu V2 bearings, and Loaded button head hardware.
The MSRP for the complete setup is $299, while the deck alone is priced at $189.
The Loaded Chinchiller perched against a palm tree.
Design Concept and Construction
The Chinchiller was designed in collaboration with Kyle Chin as a unique interpretation of the carving experience, focusing on comfort and inspiration for play. The board's construction features a vertically laminated bamboo core sandwiched between triaxial fiberglass skins and bio-based epoxy resin, providing high strength in a thin, lightweight construction. The snowboard-style top and bottom sheets add abrasion resistance and vibration damping.
The board's graphics were created by RETOKA, a design studio founded by the Barcelona-based artist duo Toni López and Zara Castellanos. Their innovative digital art pieces showcase their distinct visual language and passion for exploring the possibilities of color, shape, light effects, and movement.
The colorful griptape on the Chinchiller.
Unique Features and Benefits
The Loaded Chinchiller's playful proportions and slim outline shape make for an intuitive foot placement and telepathic handling. As Lance pointed out during our test, "The way it's composed looks like it's gonna be really intense. I love the flex." The mild concave keeps your toes and heels comfortably secure, while the rocker between the trucks cradles your feet for a locked-in feel and enhances stability.
One of the Chinchiller's most notable features is its resistance to wheel bite. With 65mm wheels and CNC-milled wheel wells, the board stiffens up just before wheel bite, providing a lot of play and movement without the worry of face planting. As I mentioned in the video review, "It's nice to have that peace of mind of not wheel biting."
No wheelbite even with the softer Orangatang Knuckles bushings.
Personal Experience and Review
Lance and I had a blast testing the Chinchiller in Venice Beach. The board's pumping and carving capabilities truly stood out.
I'm loving this thing, it is so flowy!

- Lance Lynn
The subtle flex and playful proportions provided an enjoyable and unique ride, making it easy to see why the Chinchiller has the hype from longboard enthusiasts.
One aspect of the board that took some getting used to was the shorter tail. While it still provided ample leverage to ollie and kickflip, it required a bit of adjustment to execute these maneuvers effectively. However, the compact and streamlined design of the board more than made up for this learning curve.
We also appreciated the durability and construction of the Chinchiller. The board's bio-based composite construction and snowboard-style top and bottom sheets gave it a sturdy, reliable feel, while the vertically laminated bamboo core and triaxial fiberglass skins provided the perfect balance between strength and weight.
As Lance mentioned during our session, "It's a solid board. It's flexy, but it's not too flexy. It's got a good rigidity to it." The combination of high-quality materials and thoughtful design details make the Chinchiller a fantastic investment for those looking for a versatile and well-rounded longboard.
Lance Lynn with a steezy 1-foot nose manual.
Final Thoughts
In conclusion, the Loaded Chinchiller is an dope new longboard that offers a unique and enjoyable riding experience. With its innovative design features, high-quality construction, and versatility in disciplines, it's a fantastic option for riders who want a compact, comfy, and responsive set-up.
While the shorter tail may require some adjustment for those used to longer boards, the Chinchiller's overall performance and fun factor make it well worth the investment. Whether you're a seasoned longboarder or just starting out, the Loaded Chinchiller is a great addition to your collection that's sure to provide hours of big chillin' and low-key thrillin' rides.
Happy skating!
Transparency Disclaimer: Loaded sent us this board for free. We only accepted it under the conditions that we could share our honest thoughts. Reviews on Amp will always be real and honest. It's in our values as a company to provide reliable and objective information. All proceeds from affiliate links go towards improving and maintaining these resources for the community.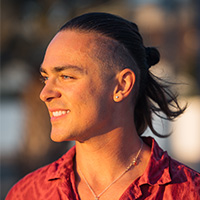 Brandon DesJarlais
Brandon is a professional longboard skater and co-founder of Amp Skate based in Venice Beach, California. You'll find him skating up and down the boardwalk daily teaching lessons, hosting sessions, or just straight vibing.
Tags
Lance Lynn
Brandon DesJarlais
Loaded Boards
Kyle Chin
Venice Beach
Powered by skaters,
for skaters, with loads of love.
© Circa 2021 - Amp Skate LLC