Gear
4 min read • Mar 11, 2023
HOUCE
Longboard Dancing Decks 101: A Look at 3 Top Brands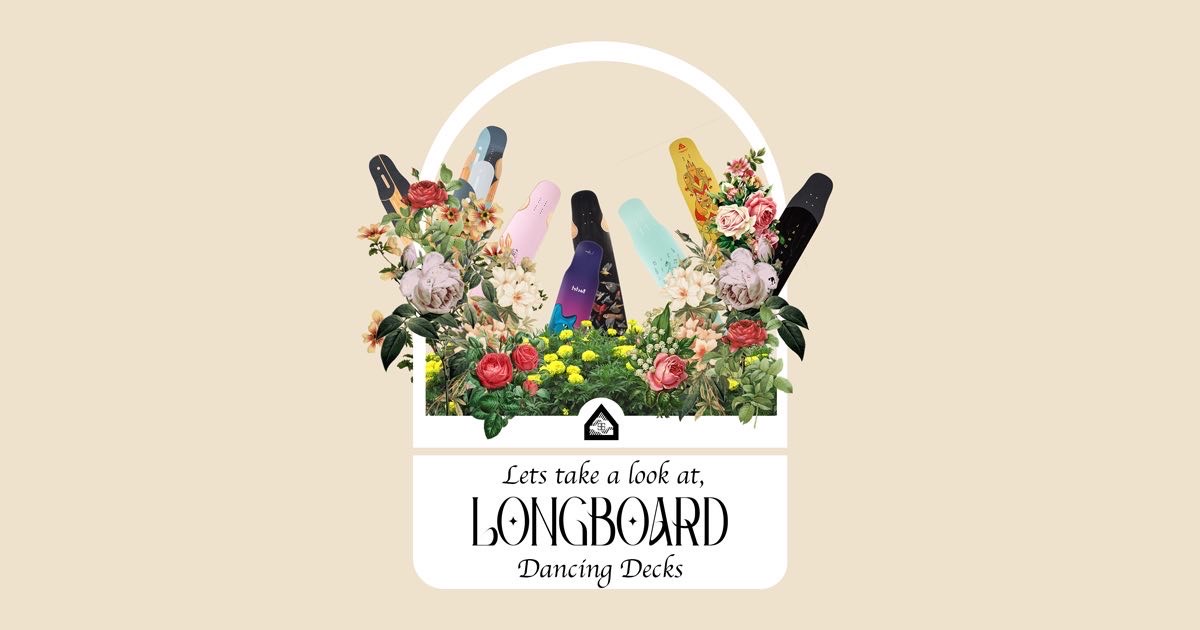 Longboarding has gained a lot of traction since 2020 and it's no surprise that Dancing and Freestyle are right at the forefront leading the charge. Compared to other disciplines of longboarding, longboard dancing is a more approachable and stylish place for many riders to start.
In this article we are going to walk you through the basics of longboard dancing and take a look at some of the most popular longboard dancing and freestyle decks from 3 leading brands in the scene: Landyachtz, Zenit Boards, and Pepper Boards.
But wait, can you longboard dance on any longboard?
Yes. You can longboard dance on any longboard. Although, the best boards for longboard dancing are generally 42" - 48" and have a symmetrical shape. This allows ample space for you to step around and to focus on your flow rather than being distracted by whether your board is forwards or backwards.
Popular Longboard Dancing and Freestyle Decks
Landyachtz
3 variations of the Landyachtz Stratus.
Leading the charge is Landyachtz with their colorful series of decks. Since the late 90s Landyachtz's has been designing and building boards in their Vancouver headquarters. Over the years they've been refining and perfecting their craftsmanship using only the finest Canadian Maple wood.
"Stratus" by Landyachtz
Rachid Moujahid on the Landyachtz Stratus.
Length: 45.5"
Width: 9.25"
Wheelbase: 27.5" - 29.5"
Flex rating: 5/10. Perfect blend of stiff and flexy.
Pressed on all Canadian Maple, the Stratus Sanctuary 46" Deck has a snappy Flex, a symmetrical shape and big mellow kicktails for all your freestyle and dancing needs. This board is simple and a great choice for beginners and pros like Rachid Moujahid, a Landyachtz team rider.
Zenit Boards
The Zenit Hana, Jig, and Tango.
All the way from Montreal (Quebec, Canada) with over 10 years in the board manufacturing industry, Zenit boards have been producing high quality innovative decks for all styles of longboarding. Zenit became one of the most popular longboard dancing brands during 2020 because they were able to keep up with production while many other brands had insane production delays.
"Tango" by Zenit Boards
Alexandra Sabeh on the Zenit Boards Tango.
Length: 42.5"
Width: 9.5"
Wheelbase: 25.5" - 27.5"
The Tango is built with pre-tensioned and pre-cured fiberglass which makes it strong, yet flexible. The wide 9.5" platform gives more space to make dance steps more comfortable at speeds. This is currently the board of choice for french rider, Alexandra Sabeh.
Pepper Boards
The Pepper Boards Flow, Bastet, and Katana.
Based all the way in Russia dominating the European longboard scene, Pepper boards have a plethora of dancing decks ranging from 38" - 48". What sets Pepper apart from the competition is their unique construction featuring a vertically laminated wood core and soft urethane rails. This helps to keep their longboards lightweight and durable.
"Bastet" by Pepper Boards
Kate Voynova on the Pepper Boards Bastet.
Length: 44"
Width: 9.5"
Wheelbase: 28" - 29.5"
Named after the goddess of joy and love, the Pepper Bastet is slightly shorter than the average longboard dancer. It's unique shape allows you to easily perform tricks and stylish steps. The Bastet is a go-to favorite for Kate Voynova.
Which size longboard should I get for dancing?
The ideal size of your longboard depends on your skating style and how big you are. In general, boards around 42" - 44" are best for smaller riders or riders that are more into freestyle tricks. Longboards that are 46" - 48" are best for bigger riders or riders that prefer to stick with longboard dancing and don't mind the extra size and weight for tricks.
How do I get started with longboard dancing?
It's important to have basic balance and maneuvering before working on any particular steps. Once you feel comfortable enough to give your first longboard dancing steps a try, we recommend the 180 Step, Cross Step, and Peter Pan as the first moves to learn. Tap the cards below to check the full tutorial and discover new longboard dancing steps.
No Trick Tip found by slug: "180-step"
No Trick Tip found by slug: "cross-step"
No Trick Tip found by slug: "peter-pan"
You can read more about longboard dancing for beginners by clicking on the link.
HOUCE
HOUCE is a longboarding skate shop based in Lagos State, Nigeria. 🇳🇬 EST December 29th 2021, they are focused on supporting the growing scene of Longboarding in Nigeria and West Africa.
Tags
longboard dancing
Houce
Zenit Boards
Landyachtz
Pepper Boards
Kate Voynova
Rachid Moujahid
Alexandra Sabeh
Powered by skaters,
for skaters, with loads of love.
© Circa 2021 - Amp Skate LLC